Srila Prabhupada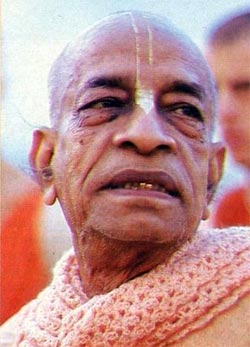 A. C. Bhaktivedanta Swami Prabhupada [1896–1977] the Founder-Acharya of the International Society for Krishna Consciousness is known by his disciples as Srila Prabhupada. He was the disciple of Bhaktisiddhanta Saraswati Thakura, who, in 1933, requested him to teach the science of Bhakti in English.
Srila Prabhupada wrote more than forty volumes of translation and commentary on such classics as Srimad-Bhagavatam (Bhagavata Purana), Chaitanya-charitamrita, and the Bhagavad-gita—ancient India's most noble message of the spiritual wisdom of Bhakti. His books are highly respected by scholars for their authority, depth, and clarity, they are used as textbooks in numerous college courses. His writings have been translated into over seventy languages.
He wrote not only as a scholar but as a consummate practitioner. He taught not only through his writings but by the example of his life.
From 1966 to 1977, despite his advanced age, Srila Prabhupada circled the globe fourteen times on lecture tours that took him to six continents. Throughout his works, Srila Prabhupada's mood was to convey the natural meaning of the scriptures without far-fetched interpretations, giving us an authentic rendition of the Vedic conclusions on such important topics as the purpose of human life, the nature of the soul, consciousness, and God.