Srimati Radharani in the Chaitanya Charitamrita and Brahma-Samhita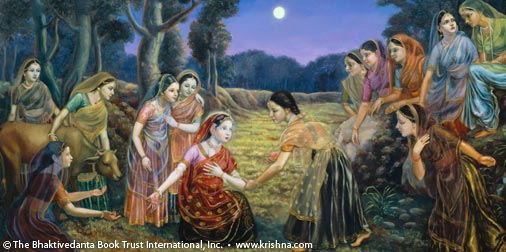 Brahma-Samhita
"I worship Govinda, the primeval Lord, who resides in His own realm, Goloka, with Radha, who resembles His own spiritual figure and who embodies the ecstatic potency [hladini]. Their companions are Her who embody extensions of Her bodily form and who are imbued and permeated with ever-blissful spiritual rasa." B.S. 5.37
Sri Chaitanya Charitamrita of Krishnadasa Kaviraja Goswami
C.C. Adi 1.6
Desiring to understand the glory of Radharani's love, the wonderful qualities in Him that She alone relishes through Her love, and the happiness She feels when She relishes the sweetness of His love, the Supreme Lord Hari, richly endowed with Her emotions, appears from the wonb of Srimati Sacideve, as the moon appears from the ocean.
The essence of the hladini potency is love of God, the essence of love of God is emotion [bhava], and the ultimate developement of emotion is mahabhava.
Sri Radha Thakurani is the embodiment of mahabhava. She is the repository of all good qualities and the crest jewel among all the lovely consorts of Lord Krsna.
Of these two gopis [Radharani and Candravali], Srimati Radharani is superior in all respects. She is the embodiment of mahabhava, and She surpasses all in good qualities. (Ujjvala-nilamani 2)
Her mind, senses and body are steeped in love for Krsna. She is Krsna's own energy, and She helps Him in His pastimes.[Adi 4.68-71]
Lord Krsna made Srimati Radharani close Her eyes in shame before Her friends by His words relating Their amorous activities on the previous night. Then He showed the highest limit of cleverness in drawing pictures of dolphins in various playful sports on Her breasts. In this way Lord Hari made His youth successful by performing pastimes in the bushes with Sri Radha and Her friends. [B.r.s. 2.1.231] (CC Adi 4.117)
Adi 4.214-221
Among the gopis, Srimati Radhika is the foremost. She surpasses all in beauty, in good qualities, in good fortune, and above all, in love.
Just as Radha is dear to Lord Krsna, so Her bathing placed [Radha-kunda] is dear to Him. She alone is His most beloved of all gopis. (Padma Purana)
O Partha, in all the three planetary systems, this earth is especially fortunate, for on earth is the town of Vrndavana. And there the gopis are especially glorious because among them is My Srimati Radharani. (Adi Purana-Krsna to Arjuna)
All the other gopis help increase the joy of Krsna's pastimes with Radharani. The gopis act as instruments of Their mutual enjoyment.
Radha is the beloved consort of Krsna, and She is the wealth of His life. Without Her, the gopis cannot give Him pleasure.
Lord Krsna, the enemy of Kamsa, left aside the other gopis during the rasa dance and took Srimati Radharani to His heart, for She is the helper of the Lord in realizing the essence of His desires. (Gita-Govinda 3.1 - Krsna leaves rasa lila to search for Radha)
Lord Caitanya appeared with the sentiment of Radha. He preached the dharma of this age-the chanting of the holy name and pure love of God.
In the mood of Srimati Radharani, He also fulfilled His own desires. This is the principal reason for His appearance.
C.C. Adi 4.238-272
Once Lord Krsna considered with His heart: "Everyone says that I am complete bliss, full of all rasas. All the world derives pleasure from Me. Is there anyone who can give Me pleasure? One who has a hundred times more qualities than Me could give pleasure to My mind. One more qualified than Me is impossible to find in the world. But in Radha alone I feel the presence of one who can give Me pleasure. Although My beauty defeats the beauty of ten million cupids, although it is unequalled and unsurpassed and although it gives pleasure to the three worlds, seeing Radharani gives pleasure to My eyes. The vibration of My transcendental flute attracts the three worlds, but My ears are enchanted by the worlds of Srimati Radharani. Although My body lends fragrance to the entire creation, the scent of Radharani's limbs captivates My mind and heart. Although the entire creation is full of differnt tastes because of Me, I am charmed by the nectarean taste of the lips of Srimati Radharani. And although My touch is cooler than ten million moons, I am refreshed by the touch of Srimati Radhika. Thus although, I am the source of happiness for the entire world, the beauty and attributes of Sri Radhika are My life and soul. In this way My affectionate feelings for Srimati Radharani may be understood, but on analysis I find them contradictory. My eyes are fully satisfied when I look upon Srimati Radharani but by looking upon Me, She becomes even more advanced in satisfaction. The flutelike murmur of the bamboos rubbing against one another steals Radharani's consciousness, for She thinks it to be the sound of My flute. And She embraces a tamala tree, mistaking it for Me. 'I have gotten the embrace of Sri Krsna,' She thinks, 'so now My life is fulfilled.' Thus She remains immersed in pleasing Krsna, taking the tree in Her arms. When a favorable breeze carries to Her the fragrance of My body, She is blinded by love and tries to fly into that breeze. When She tastes the betel chewed by Me, She merges in an ocean of joy and forgets everything else. Even with hundreds of mouths I could not express the transcendental pleasure She derives from My association. Seeing the luster of Her complexion after Our pastimes together, I forget My own identity in happiness. The sage Bharata has said that the mellows of lover and beloved are equal. But he does not know the mellows of My Vrndavana. The happiness I feel when meeting Radharani is a hundred times greater than the happiness I get from meeting others.
My dear auspicious Radharani, Your body is the source of all beauty. Your red lips are softer than the sense of immortal sweetness, Your face bears the aroma of a lotus flower, Your sweet words defeat the vibrations of the cuckoo, and Your limbs are cooler than the pulp of sandalwood. All My transcendental senses are overwhelmed in ecstatic pleasure by tasting You, who are completely decorated by beautiful qualities. (spoken by Lord Krsna to Radha, Lalita-Madhava 9.9 by Rupa Goswami)
Her eyes are enchanted by the beauty of Lord Krsna, the enemy of Kamsa. Her body thrills in pleasure at His touch. Her ears are always attracted to His sweet voice, Her nostrils are enchanted by His fragrance, and Her tongue hankers for the nectar of His soft lips. She hangs down her lotuslike face, exercising self-control only by pretense, but She cannot help showing the external signs of Her spontaneous love for Lord Krsna. (Rupa Goswami thus describes the countenance of Srimati Radharani)
Considering this, I can understand that some unknown mellow in Me controls the entire existence of My captivator, Srimati Radharani. I am always eager to taste the joy that Radharani derives from Me. In spite of various efforts, I have not been able to taste it. But My desire to relish that pleasure increases as I smell its sweetness. I have appeared in the world to taste mellows. I shall taste the mellows of pure love in various ways. I shall teach devotional service, which springs from the spontaneous love of the devotees, by demonstrating it Myself with My pastimes. But these three desires have not been satisfied, for one cannot enjoy them in a contrary postition. Unless I accept the luster of the ecstatic love of Sri Radhika, these three desires cannot be fulfilled. Therefore, assuming Radharani's sentiments and bodily complexion, I shall descend to fulfill these three desires. In this way Lord Krsna came to a decision. Simultaneously, the time came for the incarnation of the age. At that time Sri Advaita was earnestly worshiping Him. Advaita attracted Him with His loud calls. First Lord Krsna made His parents and elders appear. Then Krsna Himself, with the sentiments and complexion of Radhika, appeared in Navadvipa, like the full moon, from the womb of mother Saci, which is like an ocean of pure milk.
Lord Krsna desired to taste the limitless nectarean mellows of the love of one of His multitude of loving damsels [Sri Radha], and so He assumed the form of Lord Caitanya. He has tasted that love while hiding His own dark complexion with Her effulgent yellow color. May that Lord Caitanya confer upon us His grace. (Caitanyastaka 2.3 of Rupa Goswami) C.C. Adi 4.275
Learn More…