Transmigration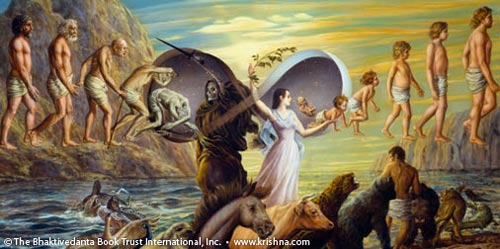 Does some aspect of our personality survive bodily death?
Some say no. But there are strong reasons for thinking it does. You'll find some of them discussed later in this article. Meanwhile, here are the basic teachings of the Vedic philosophy, the teachings given by the ancient wisdom literature of India.
According to the Vedic literature, the psychophysical entity with which we now identify ourselves is not our true self. The true self is neither the body nor the mind, nor a combination of both. The Vedic sages tell us that the body and mind are but gross and subtle coverings of the self.
Underlying these temporary coverings, the real self is a spark of spiritual consciousness, eternal and unchanging but temporarily misidentifying itself with matter in the form of the body and mind. And this real self, the Vedic sages
tell us, survives the death of the body and lives on.
If it does survive, where does it go?
There are problems with that.
It implies that God is cruel—he gives no second chance.
It implies that God is unfair—he stacks the deck in favor of some souls, against others.


For example, a person born in a good Christian family will get every opportunity to hear about Jesus Christ, put his faith in Christ, and, according to Christian teachings, be saved. But if you're born in an atheistic or unenlightened family—well, tough luck.

It leaves no sensible way to explain why people (or, for that matter, any living beings) are born in different circumstances.


Why should one person be born rich, another poor, one healthy, another diseased? If we live only once, it seems the best you can say is "It's just chance"—which is no explanation at all.
Or perhaps we merge into some sort of spiritual oneness.
Perhaps. But this seems to presuppose that the soul has its origin in spiritual oneness too, emerges from that oneness as a personal being, and then returns to that oneness again.
This leaves many questions to be answered.
How and why, from that oneness, would personality emerge?
Why, from oneness, should a plurality of personal beings appear? Why in so many varieties? And what could determine what those varieties will be?
And why would the living being automatically return to that oneness again?

The idea that personal beings somehow spring forth from an impersonal oneness runs into problems like the ones mentioned above. But even supposing it's true, why suppose that at death we automatically merge into oneness again?
Of course, we can speculate that only some of us do, or that we do so only under certain circumstances. But then we're back to the original question: What happens to the rest of us, or where do we go meanwhile? That is, If personality does survive, where does it go?
The Vedic answer is that at the end of one lifetime we embark upon another.
The Bhagavad-gita says, "As a person puts on new garments, giving up old ones, the soul similarly accepts new material bodies, giving up the old and useless ones."
The explanatory value of the Vedic point of view.
The Vedic teachings about reincarnation offer us an opportunity to understand our material circumstances more deeply, and those teachings answer questions that might otherwise yield no suitable answers.
Why are living beings born in such a multiplicity of forms and circumstances? Not by chance but because of their previous acts.
How is it that some people have extraordinary skills, even at an early age? How is it, for example, that Mozart was composing symphonies by the age of 4? If we accept the Vedic point of view, those skills may have persisted from a previous life.
Even with ordinary abilities—some of us are good at mechanics, others at math—reincarnation offers explanatory value.
Why do some of us have particular fears, others particular objects of fondness? One contributing reason may be the circumstances of a previous life.
Why do some people feel they've got "the wrong gender"? Some men feel like they "should be" women, some women like they should be men. Why? Feelings persisting from a previous life offer, again, a contributing answer.
The Vedic answer also virtually solves "the problem of evil."


Why do the innocent suffer? Why do bad things happen to good people? How can a just God permit injustice in the world? As soon as we accept the Vedic view, the problem virtually dissolves. For no longer is anyone "innocent." None of us is merely a blank slate. Each of us has to suffer or enjoy the results of our own past acts.
In much of the civilized world, the idea of reincarnation, or transmigration of the soul, is the prevailing point of view. More than a third of the world's people accept reincarnation as a fact of life.
And even in the West, the doctrine of reincarnation has a long list of distinguished
adherents.
Pythagoras (Greek philosopher and mathematician, c.582-c.500 BC)
Socrates (Greek philosopher, 469-399 BC)
Plato (Greek philosopher, 427-347 BC)
Plotinus (Greek philosopher, founder of Neoplatonism, 204-270)
Giordano Bruno (Italian philosopher, 1548-1600)
Francois Voltaire (French philosopher, 1694-1778)
Benjamin Franklin (US statesman, philosopher and inventor, 1706-1790)
Gotthold Lessing (German philosopher and dramatist, 1729-1781)
John Adams (Second president of the United States, 1735-1826)
Johann Wolfgang von Goethe (German poet and dramatist, 1749-1832)
August Wilhelm von Schlegel (German poet, critic and translator, 1767-1845)
William Wordsworth (English poet, 1770-1850)
Ralph Waldo Emerson (US philosopher and writer, 1803-1882)
Robert Browning (English poet, 1812-1889)
Richard Wagner (German composer, 1813-1883)
Henry David Thoreau (US social critic, writer and philosopher, 1817-1862)
Walt Whitman (US poet, 1819-1892)
Thomas Huxley (English biologist and writer, 1825-1895)
Leo Tolstoy (Russian novelist and social critic, 1828-1910)
Mark Twain (US writer, 1835-1910)
Gustav Mahler (German composer, 1860-1911)
Rudolf Steiner (Austrian philosopher, 1861-1925)
David Lloyd George (British Prime Minister, 1863-1945)
Henry Ford (US automobile pioneer, 1863-1947)
Rudyard Kipling (English writer, 1865-1936)
W. Somerset Maugham (English writer, 1874-1965)
Carl Jung (Swiss psychiatrist and psychologist, 1875-1961)
Sir Hugh Dowding (British Air Marshal during the Battle of Britain, 1882-1970)
George S. Patton (US general, 1885-1945)
Robert Graves (English poet, 1895-1985)
Erik Erikson (US psychoanalyst, 1902-1994)
If reincarnation is a fact, how does it work?
According to the Bhagavad-gita, whatever we think of at the time of death determines what sort of body we'll take next. And of course what we think of at death depends largely on what we thought about and what we did during our life. The process is subtle, because the mind is subtle.
The Bhagavad-gita explains that the mind, at death, carries with it subtle conceptions, just as the air carries aromas. And these subtle thoughts are what shape the next body. They determine what sort of eyes one will have, what nose, ears, and tongue, what sort of hands and legs and other bodily features. These all assemble around the mind.
The Vedic writings tell us, also, that our karma—what we deserve for our past acts—proceeds not only from what we have done in the present life but from past lives as well. My present birth, then, is an outcome of what I have thought and what I have done in the past.
Are human beings always reborn as human beings? According to the Vedic literature, no. Some are, but others are promoted to still higher forms, forms beyond our present experience, and others are degraded to lower species.
Sometimes, for example, we see a person living just like a pig—dirty, sloppy, gluttonous. We may think he even looks like a pig. According to the Vedic teachings, such a person, already practically a pig in consciousness, may get the body of a pig in his next life.
The Vedic writings say that there are 8,400,000 species, most of them lower than human. In the lower species, the living beings always act precisely as nature dictates. They have no choice. A horse always acts like a horse, a tree like a tree. You never see a tiger stealing oranges.
And so the living beings in lower species always advance to species higher. Slowly, one step at a time, they are promoted by nature from one species to the next.
But human life affords us greater choice. We can live in harmony with nature's laws, or we can violate them. And accordingly we may be promoted or degraded. The human life is therefore meant for spiritual realization and for gaining freedom from the cycle of birth and death. No other species offers us this opportunity.
Why reincarnation? What's the purpose?
The Vedic literature offers two answers.
First, we're being given a chance to live out our desires. You want to fly? Take the body of a bird. You want to swim? Take the body of a fish. You want to drink blood? The body of a tiger. Fool around and have sex all day? The body of a monkey.
Second: We're being given repeated opportunities to attain spiritual realization, break free from material entanglement, and resume our eternal nature in the spiritual world. The Vedic writings are meant to guide us in achieving
this goal.
What about scientific evidence for reincarnation?
There are various sorts of empiric evidence offered in support of the idea of reincarnation. Much of it is weak or useless, some of it strong.
The channel may have acquired information normally. For example, if a "sitter"—a person consulting a medium—asks about a particular departed person, the sitter may give various clues about that person, even unintentionally.
The information may also be within the channel's normal area of knowledge—Greek or Egyptian history, for example. Or the channel might have received information from an ordinary news item. Or from friends or acquaintances.
Sometimes the channel might have acquired the information long before, even in childhood, and forgotten it—but still have it available in his mind for access. This is called "cryptomnesia." Reliably investigated cases show that one might unconsciously retain impressions from even a few lines of text read years before—and might unconsciously use this material to construct a "paranormal" event.
The channel may in fact receive information paranormally, by telepathy or clairvoyance. That is, one might pick up the information from the mind of another living person, or by remotely "seeing" an existing object—the page of a book, for example. Whether these abilities exist, and to what extent, are also subjects of controversy. But if one assumes they exist, they provide alternative explanations to communication with departed souls.

This doesn't mean that all mediumistic communication or channeling can be dismissed as worthless. Some carefully investigated cases do seem to hold up under scrutiny and show evidence for possible survival of bodily death.

But those cases are rare.

And even if there were genuine communication with a departed spirit, this wouldn't in itself prove reincarnation. The spirit might presumably be communicating from heaven, from hell, or from some sort of limbo, without any "succession of births."

For that matter, even if a "departed soul" tells us there's reincarnation, how do we know he's telling the truth? When people here in this world can be such liars, why not people "there"?
Objections to the idea of reincarnation
Twenty Cases Suggestive of Reincarnation

Children who Remember Previous Lives

Cases of the Reincarnation Type

Where Reincarnation and Biology Intersect

Reincarnation and Biology: A Contribution to the Etiology of Birthmarks and Birth Defects
Transmigration of the self from one body to another—often known as reincarnation—is something we all experience, all the time, but may not be aware is happening. It's like this: during a single lifetime, our bodies change from infant to child to adult to elderly, but our conscious awareness stays the same.
Of cours our minds change over time, and we certainly don't see things the same way as adults as we did as children, but the same sense of being—conscious existence—remains consistent throughout our lives.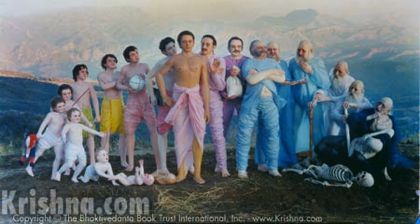 If all you see here is bodies changing, you're not seeing the point. The bodies are changing—that's obvious. But the most important person in this picture is the person you can't see at all. That person is the living spark of consciousness within the body. In other words, that person is you. Whoever you are, your body is changing. You once had the body of a child. Now you have the body of a young person or old person. The change is gradual, yet continuous. At every moment, within your body, millions of chemical reactions are taking place, millions of cells are growing, dying off, replacing themselves. Just as you can't walk into the same stream twice (at every moment the stream is changing), you can't keep your body the same.
Your mind is changing, too, from moment to moment. And your intelligence is also changing—becoming sharper, we hope, and more mature.
So far we've been talking about your body, your mind, your intelligence. Now, what about you?
You are not your body. This is not meant to be an enigmatic koan, nor merely a statement of dogma or belief. Rather, it is a scientific observation, one that bears repeating: you are not your body. Please consider this carefully.
Your body and mind are changing at every moment. Every seven years, scientists say, all the cells in your body have been replaced, including the cells in your brain. Yet something is constant.
That something is the consciousness within the body. If you think about it, you will almost certainly agree that there's a difference between you and your experiences, you and your surroundings, you and your hands, your feet, your chest, your head, even you and your present thoughts (whatever you were thinking an instant ago, that thought has just gone away, and so by now has the one that followed it—but you, I trust, are still reading on).
You are still reading on. Not you the body or you the mind, for the body and mind of a few moments ago no longer exist, but you the observer, you the consciousness within.
Although your body and mind change, that consciousness is permanent. Of course, the content of consciousness may change, but the fact of consciousness does not. Within the body of the smallest child, consciousness is present. As the child matures, he gives up the child's body for that of a young man and an old man, just as one might take off old clothes and put on new ones. But just as the person changing the clothes remains the same person, the conscious individual who changes from one body to another remains the same person within, the same conscious observer.
And what about death? When the body falls dead, it no longer holds consciousness. But has that individual consciousness ceased to exist? After all, throughout an entire lifetime of change from one body to the next, that consciousness has persisted. Now it is gone. Where is it?
And where did it come from?
Is it possible that at the time of death that conscious individual continues to exist? If so, where does he go? Might this individual spark of life, this individual consciousness, travel on to another body, to take birth again and go again through the cycle? And if so, does this cycle have an end?
These are some of the questions posed, examined, and answered in the philosophy of Krishna consciousness.