Vamanadeva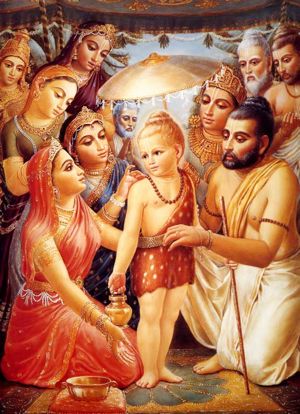 Vedic history tells of an incident many hundreds of thousands of years ago, during a period of conflict between the Devas and Danavas (universal governing forces and anti-government atheists), when the Danavas came to power, sending the legitimate royal families into hiding. The Devas prayed to Lord Vishnu, the maintainer of the universe, to help them regain their rightful properties and administrative posts.
The Lord then appeared as a dwarf, the extraordinarily beautiful miniature child brahmana Vamanadeva. In this disguise, the all-powerful Supreme Personality of Godhead approached Bali Maharaja, king of the Danavas.
Bali could understand that Vamanadeva was a higher being, from His uncommon attractiveness and effulgence. The king was prepared to grant Him anything He asked for. On the pretense of begging, Vamanadeva asked Bali for a seemingly insignificant piece of real estate – three paces of land – to which Bali agreed, despite protests from his guru.
Vamanadeva then assumed a gigantic form that covered the universe. With His first step, he reached to the heavenly planets, and with His second, He reached the limit of the universe. It appeared that Bali was unable to fulfill his promise, since he had promised Vamanadeva three steps, so he humbly asked the Lord to place His remaining step on his head.
For a more complete version of the history of Vamanadeva, see Srimad-Bhagavatam, Eighth Canto, chapters 18 and 19.