What is this material world made of?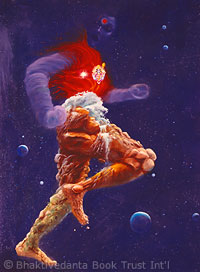 The Vedas describe the material world as the field of activity for the soul and divide matter into twenty-four basic components. The interaction of these twenty-four constitutes everything that goes on in the material world. We souls are transcendental to these interactions but are affected by them because we identify with the material bodies we inhabit.
Krishna is the source of all these components, and by reconnecting them to Him through devotional service, we can spiritualize our field of activity. This is the essence of the practices of Bhakti yoga.
The five great elements:
Earth (solid)
Water (liquid)
Fire (radiant energy)
Air (gas)
Ether (space)
The subtle elements:
Mind
Intelligence
False ego
The three modes of material nature: goodness, passion, ignorance
The five working senses:
Voice (speech)
Legs (walking)
Hands (grasping)
Anus (evacuation)
Genitals (reproduction)
The five knowledge-gathering senses:
Eyes (seeing)
Ears (hearing)
Nose (smelling)
Tongue (tasting)
Touch (feeling)
The five objects of the senses:
Form
Sound
Scent
Taste
Touch